Tricia Reynolds, CNM, WHNP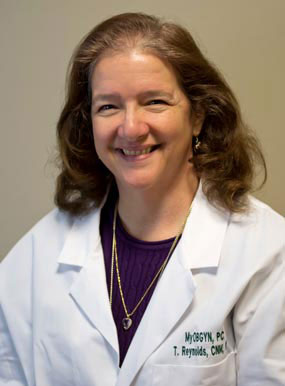 Tricia is a Georgia native who attended nursing school at Georgia State University. After 15 years of working in Labor & Delivery at the hospital, she returned to school at Emory University to become a Women's Health Nurse Practitioner. Working with women and helping them through transitions from adolescence to adulthood to menopause was a wonderful adventure, but Tricia decided she wanted to not only care for women during their 9 months of pregnancy, but to be at the bedside to deliver those babies. So, in 1999, Tricia went back to midwifery school via Philadelphia University and has practiced midwifery since 2000.
Outside of the office and hospital, Tricia and her husband, Dr. Al Reynolds, work with their church (First Baptist Jonesboro) at the free clinic (Riley Clinic) every Thursday night. This is a wonderful community service. They also do yearly medical mission trips, having worked in Romania, Serbia, Cambodia and Republic of Georgia. Their medical service involves primary care on these trips - and to reach the lost for Jesus Christ. The Reynolds, married for 28 years, have two sons and one grandson.